Fraulein Z again in Tilllate Magazine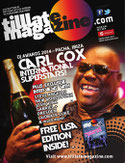 For the second time this year Tilllate Magazine is featuring an article in its Magazine about the Rotterdam based Techno-Electro mistress Fraulein Z. Check out the October Magazine on www.TilllateMagazine.com, pages 20 & 21 (Carl Cox on the front cover!).
This time the cool article is about Fraulein Z's 5th new & impressive upcoming release 'Zug nach Herr Zimmerman!' - including The Horrorist remix, and some very cool background infos. Earlier this year Tilllate Magazine featured a 4 pages article about Fraulein Z and her Rotterdam based underground Techno-Electro label and extravagant techno club nights!